No one can do everything - but we can all do something!
At Bag-all, we are constantly trying to improve our impact on the planet. After all, that has been the main purpose of our brand since the very beginning. At the end of the day, it all comes down to the small daily choices. We are constantly evolving our sustainability practices! Every year we put more and more time, effort, and money into developing and implementing more eco-friendly practices at Bag-all - from sourcing material to production to shipping the products to our customers, we are always striving to improve.
Read more below on the amazing ways you can join in our saving the 🌍 & give back!
XOXO 
The Bag-all Team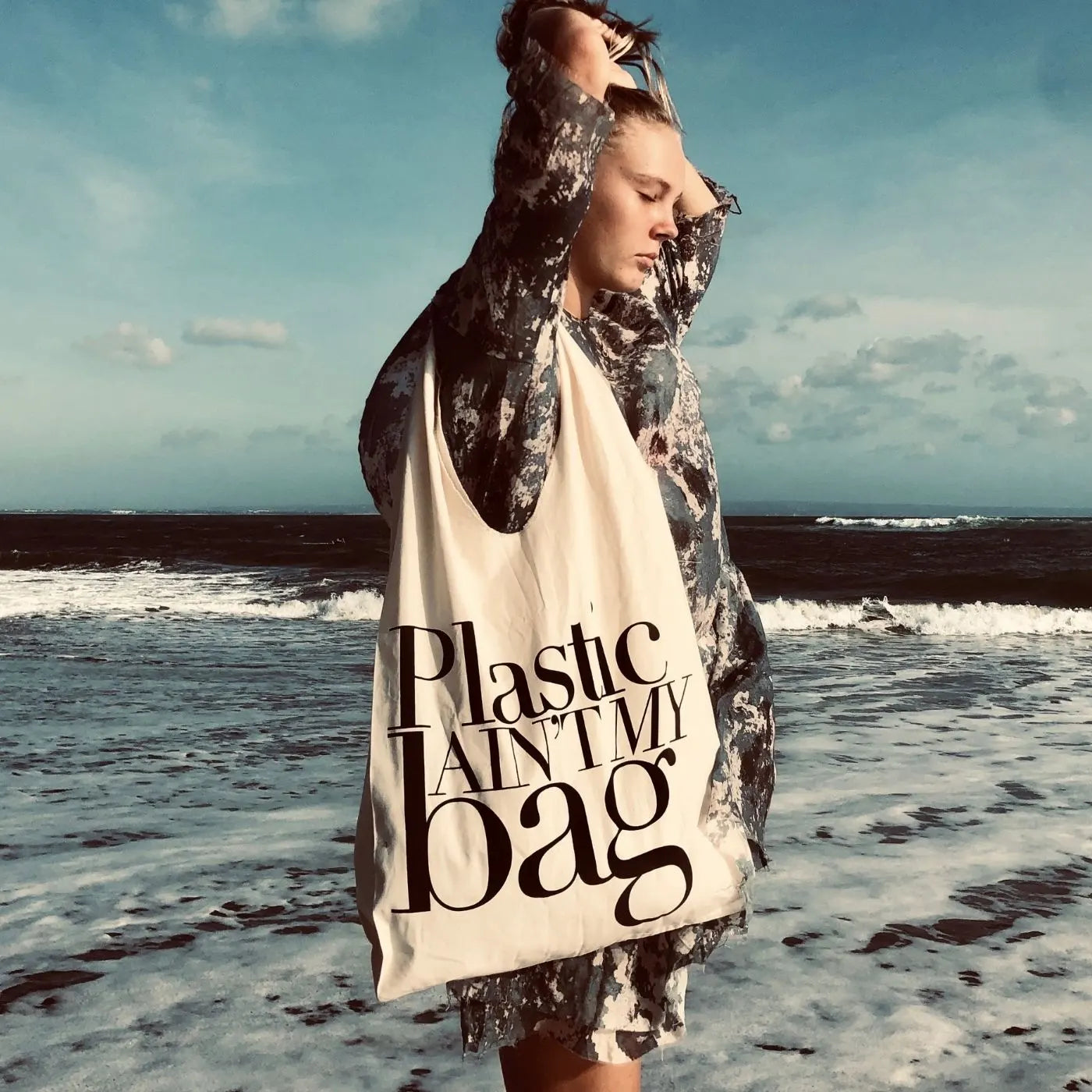 REUSE
The main purpose behind all of our products is reuse. Our very first product was a gift bag, created to reduce the toxic garbage that gift wrapping paper leaves behind. By reusing a product for years and years to come, negative impacts due to manufacturing, recycling, and waste management are reduced. 
Most of our products are made from 100% natural cotton, and all of our prints are printed with a water-based ink that is non-toxic and environmentally friendly. 
Also, our grosgrain ribbons are made from 100% recycled PET bottles. By using ribbons made from recycled PET bottles, we are contributing to a cleaner planet and a healthier wildlife. Read more HERE.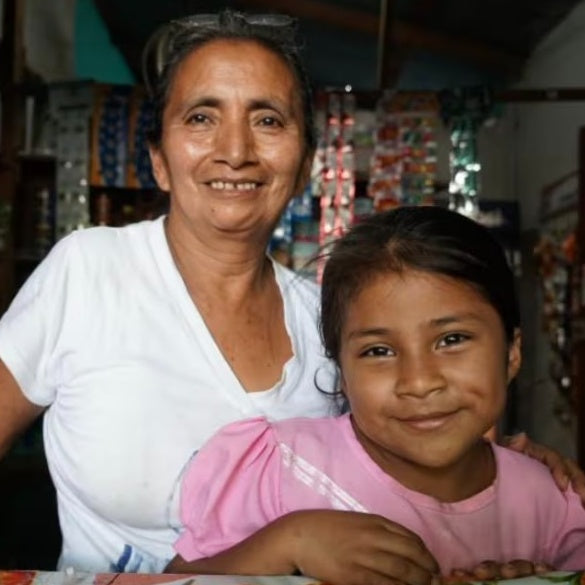 GIVE
Community is very important to us at Bag-all, both local ones and foreign communities far away. We believe that it's our shared responsibility as humans to help each other and to take care of each other and our beautiful planet.
As of now, we're giving back in a couple of different ways. First, we donate money to KIVA, an organization that helps female entrepreneurs in undeveloped countries start businesses that will hopefully change their lives and the lives of their local communities. 
Read more below!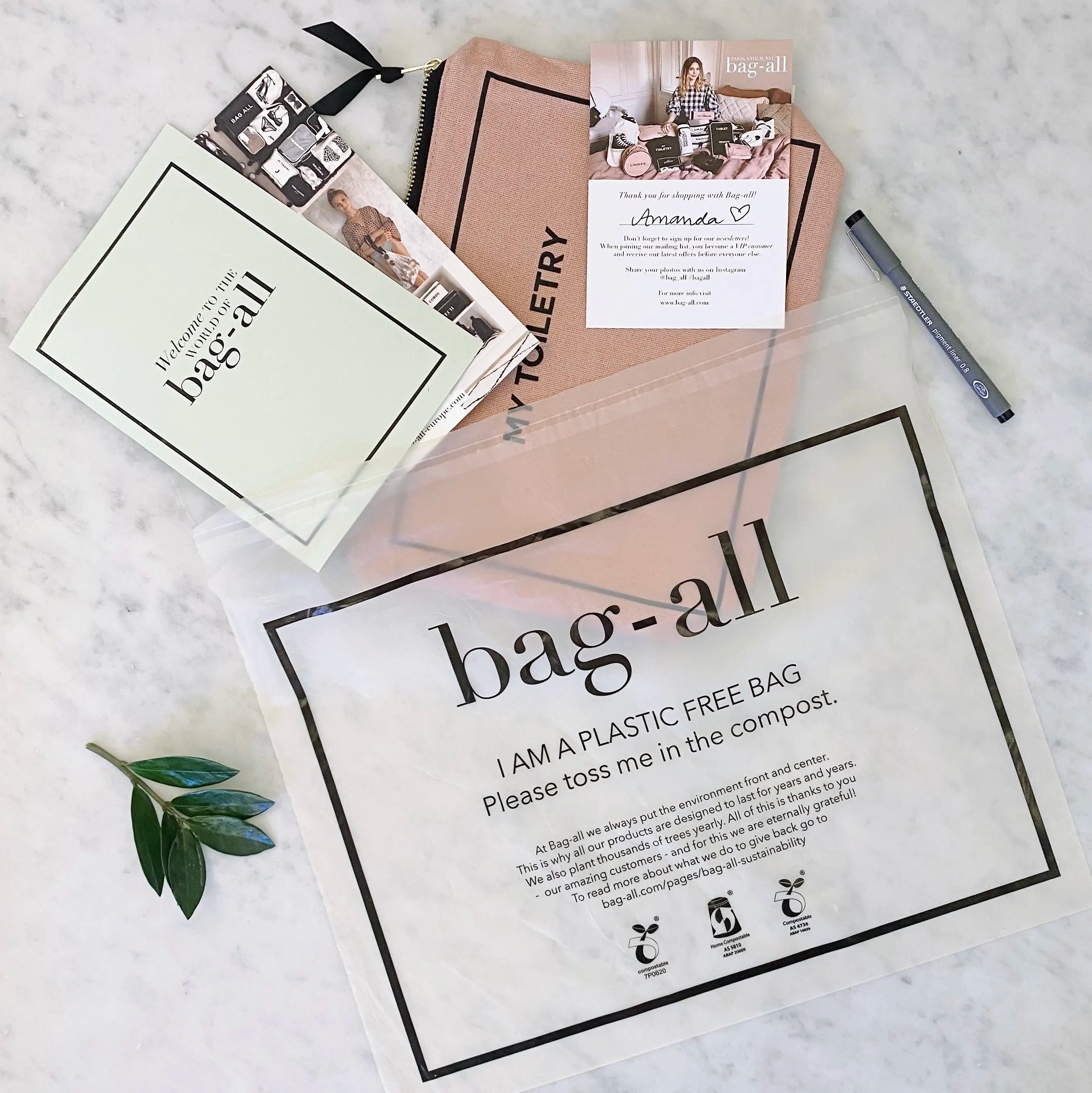 SHIP
If you have placed an order from Bag-all online you may have noticed that the bags our products come in smell of mushroom? That is because they are - they are 100% plastic free and custom made for Bag-all! 
In our stores we reuse all cardboard boxes sent to us for our own outgoing shipments. This both limits waste management of old boxes and reduces impacts related to recycling. Also, we no longer offer disposable bags with a store purchase. Instead, we offer reusable totes at a very low price.
Fun fact: Our stores are decorated with vintage furniture found at flea markets. Across our brand, we truly believe in reusing and waste reducing in all areas. 
Read more below!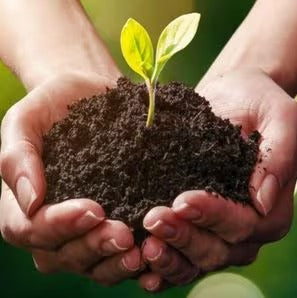 TREE
One of our favorite sustainability efforts is to give back to the planet by planting a tree for every sold monogram. 
We have been working with the organization Onetreeplanted.org to plant 36,804 trees - so far - in the Amazon rainforest and in Indonesia. 
Also, since we love trees and our planet, we randomly go ahead and plant some more tree here and there, because, why not?
Together, we can make a difference.

One monogram =
One Tree 
Trees planted by Bag-all & our customers🌱
36804
If you, like us, cannot get enough of planting trees, plant some more HERE ↓
BAG-ALL & KIVA.ORG
Giving back is one of the most important things to us here at Bag-all. Whether it's giving back to the planet, the community, or to a fellow human in need. For a few years, we have been donating money to an organization that we feel very passionate about. It's called Kiva, and its mission is to help entrepreneurs in poor areas across the world to start, or advance, their own businesses by giving them micro loans. By lending business funds to people in need, they are given a chance to start something of their own that will provide life-long support for them, their families and their local communities. 
So far, Bag-all has lent over $7,900 to female entrepreneurs in 49 countries. We have made a total of 323 loans, and we will continue to support women for many years to come. If you want to read more about it, check out our Journal HERE. If you want to join our effort, please attribute your loan to Team Bag-all on Kivas website. It would truly mean the world to us!
CLIMATE COMPENSATION
Since Bag-all is a global company with our products sent across the world we have started shipping our goods by train and sea opposed to air freight. To our customers we do still ship by air but we strive to compensate for it in every way we possibly can. 
We are constantly working to make the process of shipping out your orders as environmentally friendly as possible. We reuse and choose less polluting material whenever possible.
We carefully select our producers and make sure they also have programs in place to work in the most environmentally friendly way possible.